Photos - Installing Arctic Cooling NV Silencer 5
The fan came very well packaged. The package includes the fan assembly, the passive memory cooling attachment, thermal stickies for passive cooler and okay but not great instructions: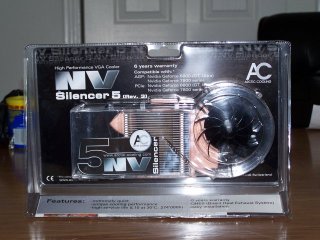 Here is the BFG 8600GT with the stock fan. The stock fan consists of two fans and a decent heat sink. It appears that it would be quite effective.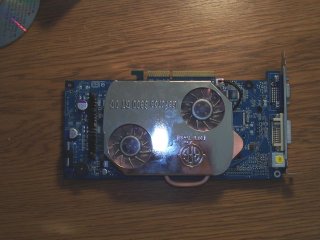 Here is a side by side view of the stock cooler (still on the card) and the NV5. Instead of two small fans, the NV5 implements a single large fan. This fan blows through the heatsink coils and forces the hot air through a duct out the back of the computer. Also while it can't be seen, the heat-sink coils on the NV5 are massive compared to the stock cooler.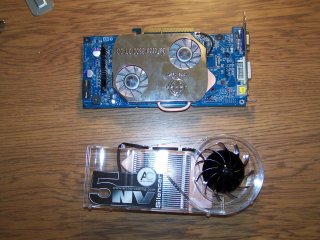 Here is a picture with the stock fan removed from the card. I am going to try to build a ray-gun from the old stock cooler.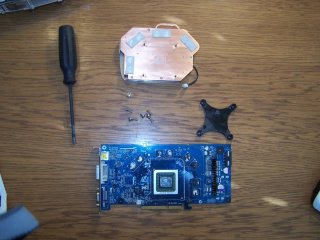 The residue can be clearly seen on the 8 memory modules as well as the GPU.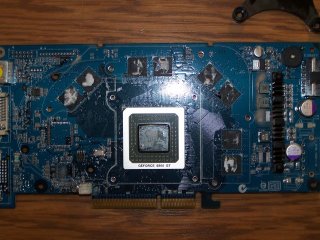 Cleaning the contact points was easy and will allow for the maximum surface area to be attached to the new thermal paste.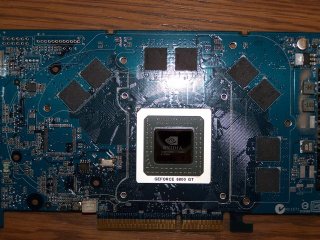 The installation instructions for the passive memory cooler was a bit confusing, but this is the way it should look on the bottom (or top in the case) of the card when you are finished. Yes the passive cooler is held on simply by the sticky paste paper.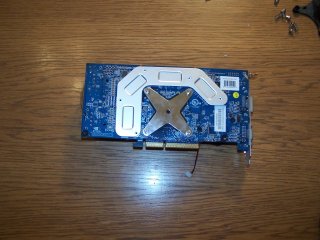 This mammoth almost complety obscures the whole card. It looks intimidating, doesn't it?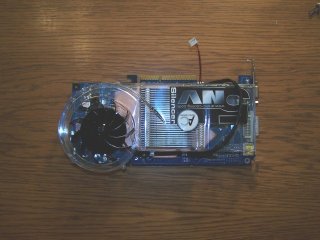 That is one thick card! As mentioned it will easily occupy two slots.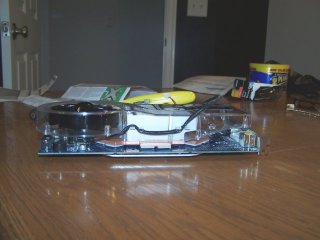 Here it is in place. As you can see, I have the third slot down empty as well. In theory you could put something there, but it would be tight. I've also got to think that this fan is able to move air better with having a gap.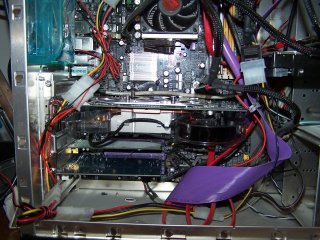 Here is a huge reason for the improvement (IMO). The hot air from the card is blown out of the back of the case, instead of simply raising the ambient temperature inside the case.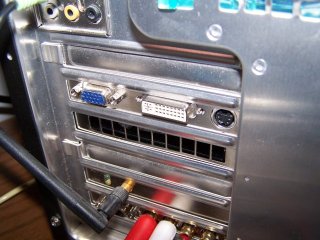 Conclusion
Well, it should be obvious if you have read this, that I am a big "fan" of the Arctic Cooling NV5 Cooler. It accomplished the task for which I purchased it while also giving an unexpected side effect of less noise. The installation was simple and straightforward. I was particularly impressed with the tolerances as everything fit exactly as it should. The pre-applied thermal paste meshed perfectly with the card. For a current street price of US$30.00, it is an easy and relatively inexpensive modification.